2024 One-day workshop events across NSW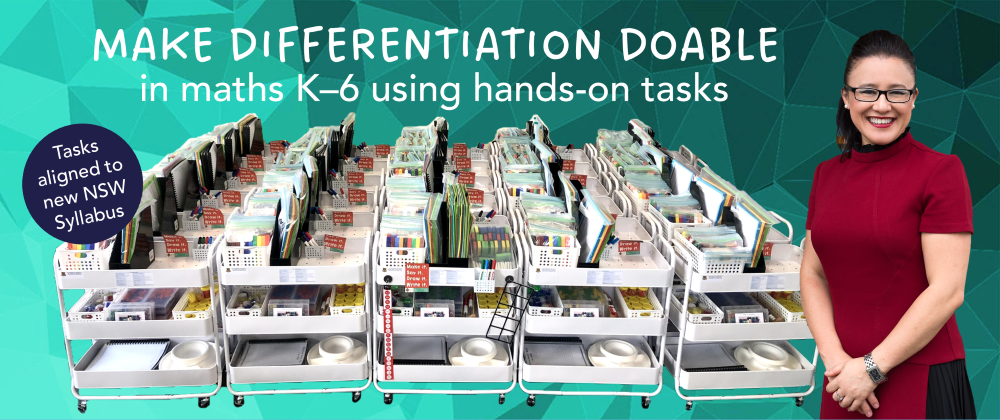 Want to know how to use concrete materials with the new syllabus?
This is your opportunity to learn from the queen of concrete materials and curriculum knowledge! Anita has mapped a range of concrete materials and related tasks to the Content of the new NSW Mathematics K–6 Syllabus.
Learn how to:
use the same piece of equipment/visual model to support learning in different focus areas of the new syllabus
differentiate to meet the needs of the full range of learners in each room Kindergarten to Year 6
implement a whole-school approach to using equipment K-6.
This professional learning is ideally suited to:
Leaders of Curriculum / AP's Curriculum and Instruction
Assistant Principals
teachers who lead maths at their school.
Schools are encouraged to send a team of leaders. However, can't get cover to send your whole team of leaders on the same day? No problem! Anita is offering the same series of workshops at each venue. This means you could send some leaders to one venue and others to another venue on a different day!
Note: individuals are also very welcome to attend!
Series of 3 one-day workshops | 4 great locations
Anita has designed a series of 3 one-day workshops (a different topic each term) to immerse leaders in a range of easy to implement hands-on tasks for whole-class differentiated instruction. The focus is on Number concepts and making connections to other Focus Areas.
Each workshop will be delivered once at each venue (see below for locations). Come to one workshop, two or all three!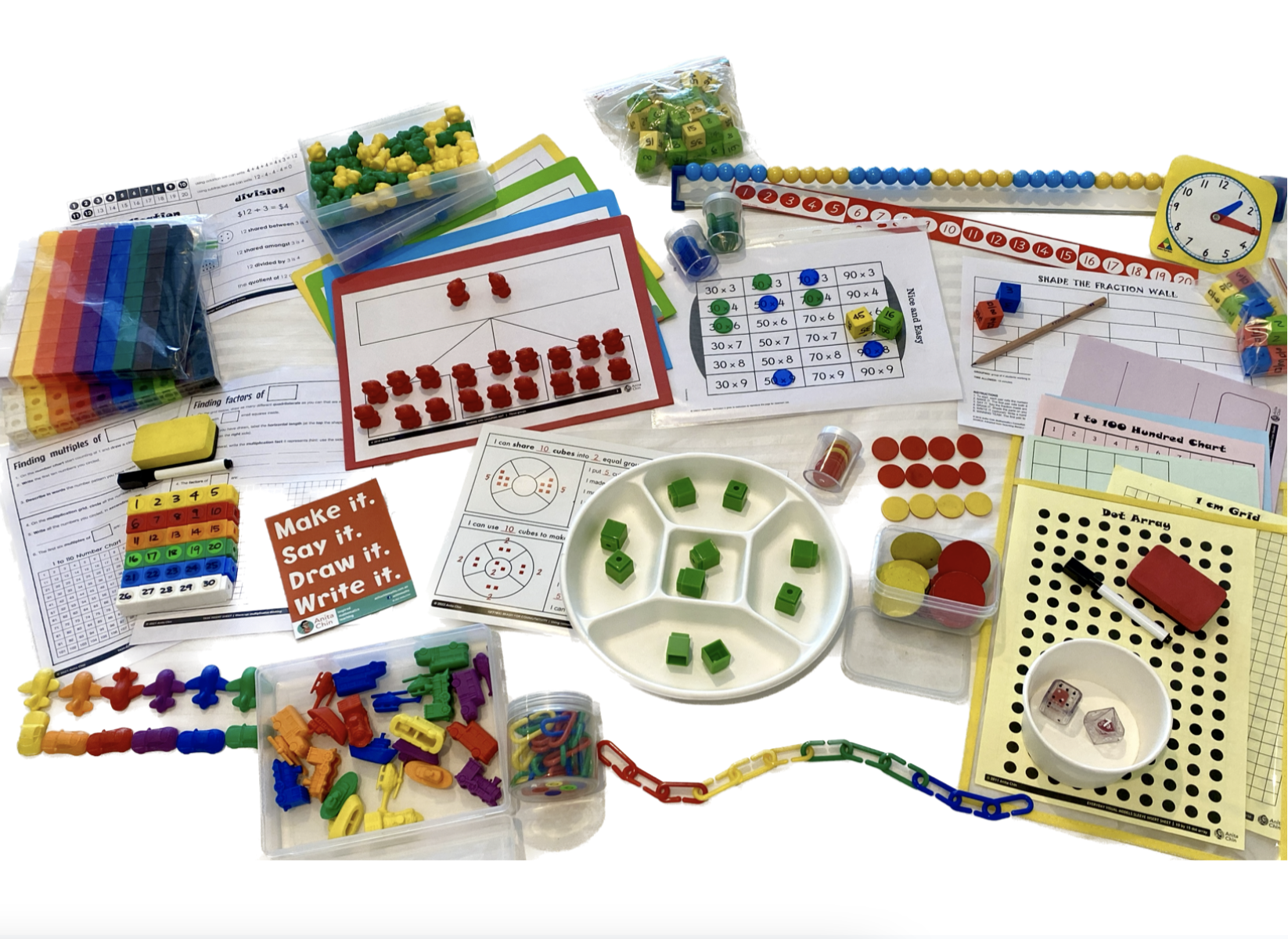 Workshop 1 (Term one)
Multiplicative Thinking and Fractions
Understanding the developmental sequence of learning for multiplicative and fractional thinking allows teachers to differentiate their instruction. Learn a variety of tasks with visual models (dot array and grid) in write and wipe sleeves, connecting cubes and dice. All tasks are mapped to the new syllabus.
Workshop 2 (Term two)
Place Value Concepts
Place value spans whole number and decimals. Learn a variety of tasks aligned to the new syllabus, that allow students to develop a strong sense of the structure of numbers from 10 to tenths, and 100 to hundredths. Included ten frames, hundred charts, empty number line, connecting cubes, and magnetic base ten material.
Workshop 3 (Term three)
Additive Thinking
This workshop is all about developing part-part-whole thinking and flexibility with numbers. Anita will model tasks with double-nine dot dominoes, playing cards and the empty number line. All mapped to the new syllabus so you can easily integrate them into your units of work.
Evidence base
The series of three workshops focus on the elements of Layer 1 of Anita's Primary Mathematics Framework (2022). Anita also draws on Rosenshine's Principles of Instruction (2010), modelling how to develop student understanding through questioning techniques, thinking aloud and clear written recordings.
Event details
Time: Sign-in 8:30 am | Workshop 8:45 am–3:30 pm
What's included: Morning tea, lunch, hard copy workshop folder, bag, fun!
Tickets: 'Grab and go', no team details required, easy! NOW OPEN.
  🔸 Early Bird (closes 1/12/2023): $585 per person, per workshop.
  🔸 Full price: $599 per person, per workshop.
Registration closes: When an event is sold out or 4 weeks prior to the event date.
Seats remaining: last updated Tue 28 Nov 2023, 5:00 pm
Questions? Reach out to Anita's PL Coordinator, Cindy via email at cindy@anitachinmaths.com.au
NEX
North Ryde RSL
Panthers, North Richmond
Holiday Inn, Warwick Farm
Multiplicative Thinking & Fractions K-6
Tue 12 March 2024 (T1 W7)
57 seats remaining
(capacity of 72)
Place Value Concepts K-6
Tue 7 May 2024 (T2 W2)
59 seats remaining
(capacity of 72)
Additive Thinking K-6
Mon 29 July 2024 (T3 W2)
59 seats remaining
(capacity of 72)
Holiday Inn, Warwick Farm (on-site accommodation available)
Multiplicative Thinking & Fractions K-6
Fri 15 March 2024 (T1 W7)
39 seats remaining
(capacity of 84)
Place Value Concepts K-6
Fri 10 May 2024 (T2 W2)
54 seats remaining
(capacity of 84)
Additive Thinking K-6
Fri 2 August 2024 (T3 W2)
54 seats remaining
(capacity of 84)
Panthers, North Richmond… this venue has been CANCELLED due to low rego numbers
Multiplicative Thinking & Fractions K-6
Thur 14 March 2024 (T1 W7)

Place Value Concepts K-6
Thur 9 May 2024 (T2 W2)
Additive Thinking K-6
Thur 1 August 2024 (T3 W2)
Newcastle Exhibition Centre… this venue has been CANCELLED due to low rego numbers
Multiplicative Thinking & Fractions K-6
Thur 21 March 2024 (T1 W8)
Place Value Concepts K-6
Fri 3 May (T2 W1)
Additive Thinking K-6
Thur 25 July 2024 (T3 W1)